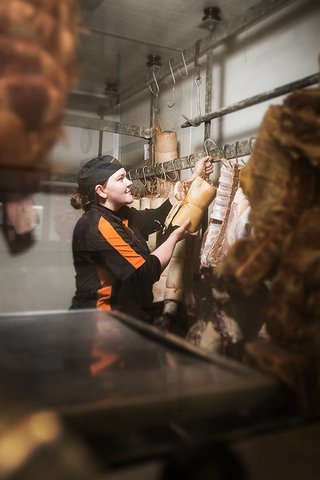 At the heart of Everybody's Butchery is Lisa Willert. Lisa completed her butchery training in Germany and immigrated to New Zealand to see some more of the world. For Lisa, her philosophy is simple: know your customers, and supply good meat.
With an awareness for her social responsibilities, Lisa prides herself in giving young students a chance on gaining valuable work experience. Becoming a part of the team, the teenagers can progress from cleaning hand to shop assistant and later operate the shop completely on their own for a few hours of the day, teaching them responsibility and accountability.
Established in 1906, Everybody's Butchery is Christchurch's oldest, still operating butchery. Today Everybody's Butchery combines the best of its past with the best of old fashioned German butchery to produce meat products so good, you have to try them to believe it. Much of the work is done manually and Lisa and her team work in the traditional way, grinding the meat into sausages, curing the bacon and smoking the biersticks.